Restoration of a Medieval castle
In 1992 new private owners, Eric and Patricia Laigneau fell in love with the castle and embarked on the crucially-important process of restoration that was necessary to the survival of the property. They decided to open the castle to the public in order to share the beauty of the buildings. The utilitarian buildings were reunited with the french castle. The gardens underwent makeovers year after year. The operation to rescue the stables from disrepair occurred between 2006 and 2010.
Rivau has been reborn today and offers us a rare, coherent vision of a grand lordly home of the XV and XVI centuries. Rivau castle was classified as a historic monument in July 1918. The royal stables were classified in 1999. For the last three hundred years the castle had not undergone any important renovations. While the buildings retain the spirit of the XVI century, time, weather and disinterest have left their mark on the fortress. As soon as Patricia and Eric Laigneau bought the site in 1992 they embarked on long and important works intended to bring back all of Rivau's former grandeur. They started by making an assessment of the work needed in order to get a good idea of the scale of what was ahead of them. Work started in 1994 under the supervision of Arnaud de Saint-Jouan, chief architect of the historic buildings of France.
Key figure of the Restoration.
The roofing, framework, tops of the dormer window pediments and double bascule drawbridge were all touched by the very large restoration campaign that was necessary to ensure the preservation of the château, carried out under the management of Arnaud de Saint Jouan, Chief Architect of Historical Monuments.
• Surface of slate roof changed:1276 m2
• 126 windows have been replaced with 15th century versions of ironwork.
• Scaffolding necessary 727m2
• Framework replaced: 75m3 of oak
• 12 beams measuring 60 X 80 in cross-section have been reinforced using the traditional technique of scarf joints.
After 20 years of renovation, Le Rivau burnt in July 2011. Thanks to the help of Arnaud de St Jouan and numerous craftmen of the Loire Valley, le Rivau is now after this terrible tragedy fully renovated.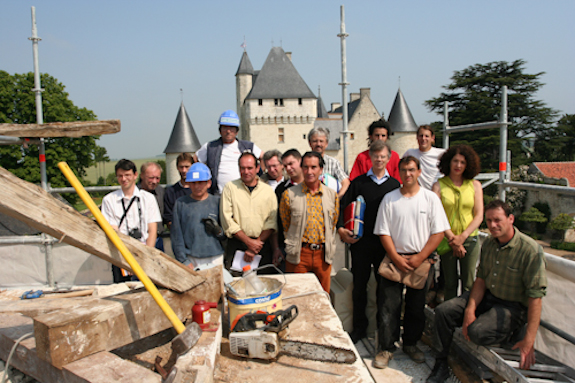 Latest castle renovations – Château du Rivau
Restoration of the royal stables of le Rivau
After 18 years of restoration, the royal stables of the Rivau are finally open to the public. Come and discover their secrets!