They are expected throughout the year as the splendor of their flowering is unsurpassed : the
Peonies
. In Rivau gardens, the stars are
the shrub peonies
found in the gardens of Rivau
… The first peony to bloom is the beautiful
Ice Storm
with its white petals and golden stamens. It is followed by the
Rock's UK
.
Renkaku
that means flying Crane in Japonese is so white that it is almost translucide. It is very near another japonese beautiful Peony : Haku Unkaku.
A week later, the enormous (25 cm) white and yellow and green petals of Hélène Martin peony are blooming. They are both amazing for their size and white beauty emphasised by their beautiful green foliage. Shivunanobori has an attractive and rare fuschia color. Princesse Amélie that can be found in front of our labyrinth and you can stroll around the gardens to discover many other shrub pieonies.
Herbaceous peonies Early Scout has a beautiful red color, this peony is followed by Aztec, Néon that are growing in our love potion gardens with Mme Antoine Rivière, Mme Henri Fuchs orCarrara .
Ornemental Garlic Flowers
More rural than the sophisticated peonies but very much in season in May are the ornemental Garlic Flowers. They can be either purble, lilas, pink or white and give a lot of colors to the flowerbeds. The purple Garlic flowers : Allium Giganteum (a huge and strong garlic flower), Allium Christophii or Shubertii that looks like a stared balloon.
White Garlic Flowers can also be quite spectacular and seem to be floating in the air. In Rivau Gardens we cultivate Allim White Empress that blooms shortly before the Allium Mount Everest, that is so elegant. Then comes the Allium Nigrum whose stem can be as long as 60cm… The Allium Nectoracoscordum is quite special as its flower is made of little hanging bells that under the light seem to be made of silver.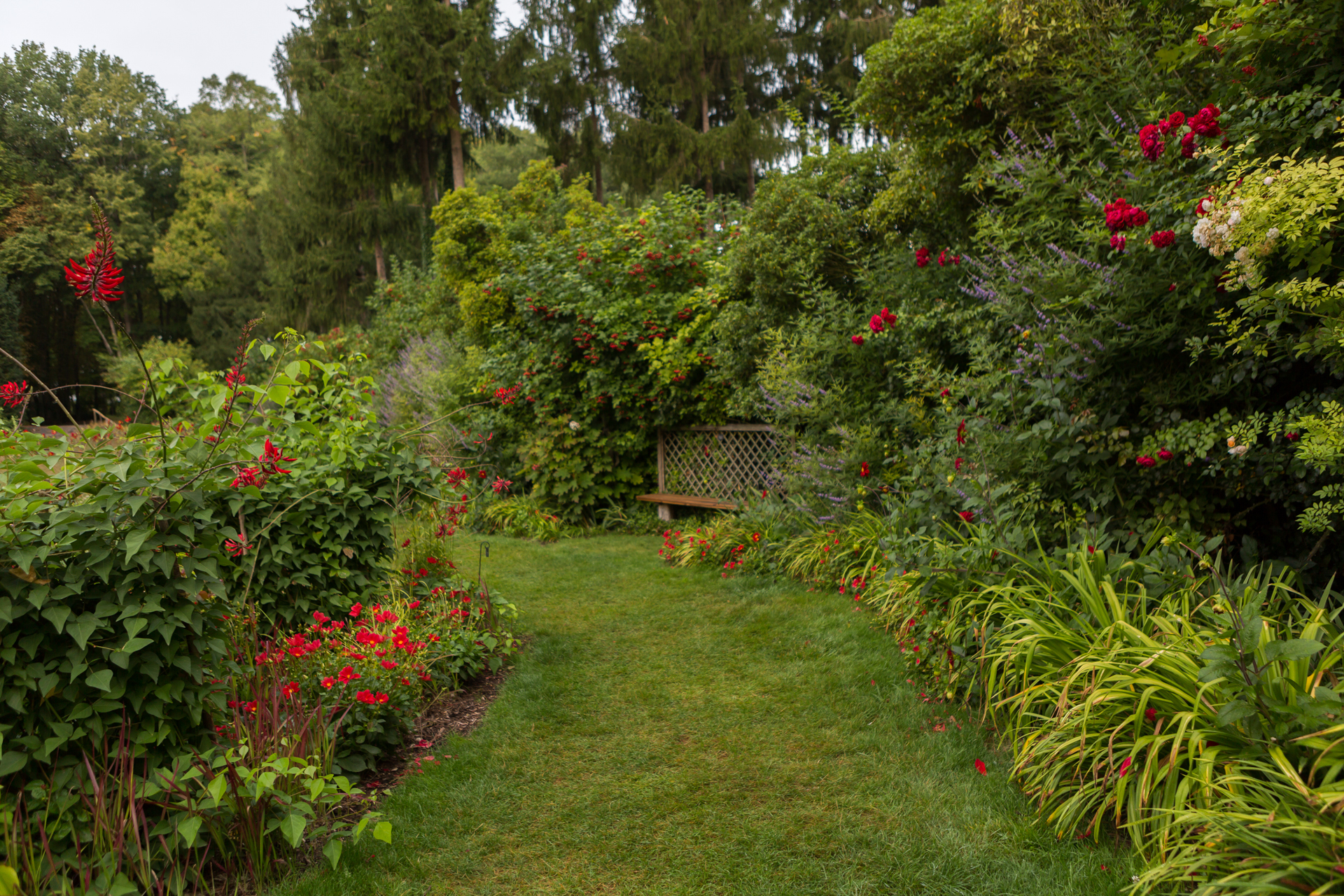 May is also the season of the blooming of the last Fruit Tree in Rivau Gardens : Meldar Tree for example have a beatuiful May Bloom. Meldar tree flower have a simple flower with 5 petals and smell like honey.
The Collection of Iris that we have in Rivau gardens also blooms in May. The Gardens of Rivau have more than 277 different varieties of Iris. Some are blue, black, white, yellow or bicolor. Iris bloom at the same time as the Poppies.
Last but not least, at the end of May roses start blooming, the first ones are the Spinosissima Hybrids : Frühlingsanfang, Maygold, Leverkusen with its beautiful yellow flowers. Then, Old Blush , the oldest chinese rose imported to Europe and Cramosi supérieur and Narrow Water introduce the great rose bloom of early June. .