Castle and Garden Rivau rose collection comptes more than
450 varieties
and more than 1500 cultivars. Simple roses can have as few as 5 petals but open on a amazing heart that is called stem.
There a many different stems : Astronomia is a modern rose obtain by Meilland that has beautiful brown stem that open on blue-white petals. R Moyesi Geranium was discovered in China in 1890, its red flowers are of a diameter of 6cm and are illuminated by bronze stems. In the love potion garden, Peace and Love, is another rose with 5 petals that has beautiful orange stems.
Kew garden was obtain by D. Austin and also has the candid charm of simple roses. Kew Garden'swhite flowers are smaller than the previous roses but have beautiful golden stems. R Cooperii, is new in our Rivau gardens. It is a botanic climber that has 5 white and huge petals and golden stems. Among the yellow color rose of our collection, Golden Wings, is an american rose that has very large yellow petals and very long golden stems. It is one of the early bloom of our gardens. Le Rivau's Gardens puts a lot of emphasis on simple roses as they embody the simplicity of the beauty of the rural surrounding of the Castle.
Roses With Double Flowers
Our Fragrant rose collection also has a great number of double flower roses. One of the great example of double petal roses of our garden is :
Mme Hardy
. This old rose was obtained in 1832 and has white double and flat petals and a unique green heart !
Old, historic or mordern, all the roses of le Rivau garden's are chosen for their frangrance, color, shape and stems. Jacqueline du Pré, is a modern rose with white or nearly transparente petals. She has ruby color stems of different lenght. This rose also has a beautiful smell.
One of the stars of our fragrant rose collection is : R x Centifolia . Those roses have in general a cabage shape : Petite Lisette or William Lobb for example. Damas roses are also very fragrant :ville de Bruxelles, is an old rose that dates back to 1849, it has lots of petals that are organized from the center on… Another interresting Damas Rose is Rosa Damascena 4 Saison as a perfume that seems to come straight from the Orient.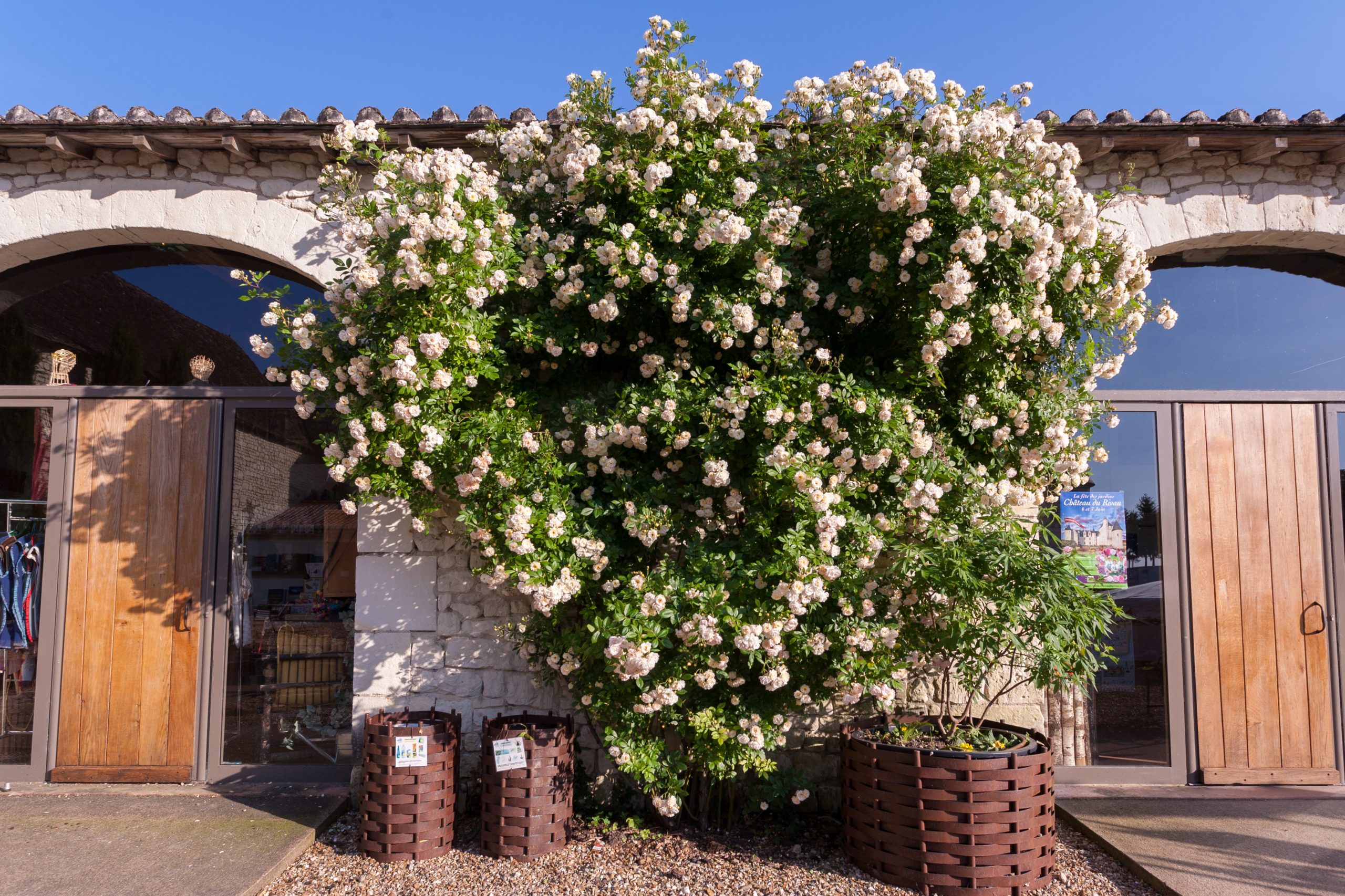 The blue roses Rhapsody in Blue or Burgundy Ice are in bloom at the beguinning of June.Roses are a mytical flower that show tender love for the love ones but they also have a subtil fragrance that is another reason to visit Rivau Gardens in June