GHOST IN THE CASTLE: INSPIRED AND ARTISTIC APARITIONS BETWEEN THE WALLS
« No One Knows Why, But Ghosts Love Nothing More Than Castles». Chateaubriand
The exhibition Ghosts and Apparitions pays a tribute to the supernatural figures that have always accompanied human societies and continue to fascinate the artists of today.
19th Century Romantics were the first to really pay attention to the traditions and popular beliefs surrounding ghosts and the new generations of artists are still exploring that rich mental space peopled with strange creatures. The quest for irrationality and hallucinatory visions is still alive and well!
In the eight halls dedicated to history and castle life during the medieval era, you will see thirty-five different works: painting, sculpture, collage, ceramics, glasswork, photography, video art, stuffed animals, and art installations -a wide span of media is represented! All of those works by contemporary artists are in dialogue with the castle's permanent collections.Even in this age of new technologies, these works are a living proof that irrationality and emotions are all but extinguished!
In the Great Hall, dedicated to the Lords who built Le Rivau, for instance, you can see Fabien Vershaere's painting above the mantelpiece. The artist blurs the boundaries between reality and the afterlife, representing his own obsessions in a very tongue-in-cheek way.
American artist Marnie Weber draws her inspiration from a mixture of carnival imagery and spiristism – a religious movement based on the idea that the spirit of the dead can communicate with the living. She is also fascinated with the feminine figure, as you can see in her sculpture Curly Ghost Clown.
In the Lord of Le Rivau's Study, the work entitled Salvatore Mundi, by artist Jan Fabre throws us back to the times of wandering ghost knights. A hand wearing a metal gauntlet seems to have come through the wall and supports a sphere covered with beetle elytras representing the earth, and topped by part of a human spine.
On the desk, Bottle of Tears by Jean-Michel Othoniel reminds us of the crystal balls of traditional fortune tellers, but also of the clever mechanisms crafted by surrealist artists to recreate ghost voices.
Nathalie Rebholltz's Nephesh puts a new spin on ghost imagery: her creatures emerging from the chimney seem rather nice and friendly – miles away from other usually scary or deathly apparition.
Sometimes fear is only inside the mind: in the photographic dyptich Mare Vaporum by Ljubisa Danilovic, created with a rare technique called rotogravure, we can see a character faced with its own shadow. An image that the artist is unable to erase from her memory.
Alongside, Clara Dijan and Nicolas Leto's spray paintings entitled Death is Certain borrow from the photogram technique to remind us that the shadows of the people we have lost continue to follow us, like an negative image of the flesh-and-blood beings we once knew. The two artists try to reconcile the living and the dead through the use of a medium evocative of the afterlife.
On the small table, the white sculptures by Combey and Pion create a fantastical and strange atmosphere, not very far from the troubling contraptions of surrealist artists.
Blanc Manger from Magali Vaillant
Over the 16th Century gilded wooden cabinet, the animated drawing Garden of Shadows by Eva Magyarosi casts a fantastical spell on Le Rivau's trees, flowers, and gardens, turning them into elements of a a living dream complete with ghosts and revenants. Diego Movilla creates his charcoal drawings by erasing layer after layer. In his Dégommés series, his original sketch evolves through a kind of pentimento process into a blurred apparition – possibly the artists's intimate memory of his own historical heroes.
By putting together two slabs of stone, Evariste Richer turns what was buried deep into a visionary instrument, evocative of Inuit sunglasses made out of wood or stone.
Hervé Le Nost added an intruder among the Albarelli jars in the cabinet. His anthropomorphic piece entitled Peter uses the Quimper Ceramics Factory templates. It is a reference to Peter Brady, the man who became invisible after an experiment.This humorous work of art plays with the codes of visibility and invisibility and with our own emotional response to mystery.
Patrick Everaert focuses on the persistence of images. He choses an image from a publication in a language foreign to him, erases it from his memory, and submits it to a series of modifications in order to bring out its fantasmagoric, dream-like, or obsessional quality.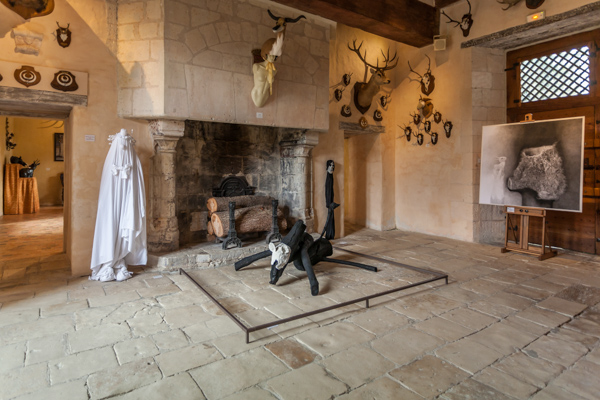 In the Great Hall, works of art inspired by supernatural forces rub elbows with items of natural history or ethnography. You're in a for a surprise! Nadia Sabourin steers the stuffed animals in the Great Hall towards a new destiny. Why can't artists share the same paranormal gifts as mediums?
By the chimney, the sculpture Catabase is made out of burnt wood and draws its inspiration from the ancient myth of Orpheus' descent into the underworld. It acts as a ghost counterpart to the boar-hunting trophy hung on the wall by victorious hunters.
The blackened totem Going Through the Wood carved by Nadia Sabourin is a mixture of primitive techniques and refined details, such as the animal's nose which is made out of ceramics. It completes the collection of deer antlers, and assures that the whole image will not be lost even though the animals are reduced to a mere skeleton.
Nadia Sabourin shows another side of her artistic talent in her other work Noir Desseins. She erases one layer after another of her pastel drawings, replicating the gradual disappearance of memories. The clear outlines of a beloved cuddly toy have become blurred by the passing of time and the artist's interventions.
With Grey Heron, Dutch artists Marten Kolk and Gus Kuster turned a bird into a phantom-like creature by replacing the animal's feathers with cloth.
Those works are in constant dialogue with the Castle's permanent collections, such as the reliquary by Karine Bonneval entitled Sweet Hunt, which pays a tribute to forest spirits, or the knitted boar by artistic duo Art Orienté objet. Now let's move away from animal spectres and revenants, and focus on the shadows of human ghosts!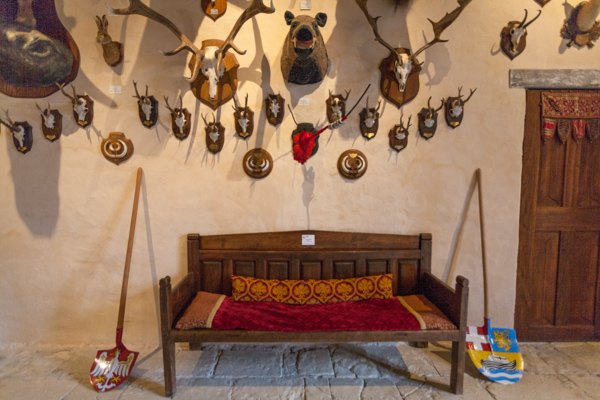 Most ghosts referred to in history appear as skeletons dressed in black, and stem from people who committed atrocities, as Pierre Ardouvin's Costume reminds us. But do not fear, Le Rivau is protected by good spirits!
Alongside, you can see the secret image of the Assolant Alley Witch by Sanjin Cosabic, but only if you use the ultraviolet lamp provided.
This vision is revealed only to the most inquisitive souls, and will enlighten you both in terms of visible and invisible realities: witchcraft, scientific discoveries, geopolitics, white magic and phantoms. Just because you cannot see something does not mean it does not exist. Artists are here to remind us that there is always more than meets the eye!
On the wall, Katia Bourdarel's The Talons is all about the energy of movement and transformation. The artist highlights the bird's majesty by adorning it with silver claws and feet. The rest of the body is missing, probably in the process of recreating itself out of the burnt branch it is perched on?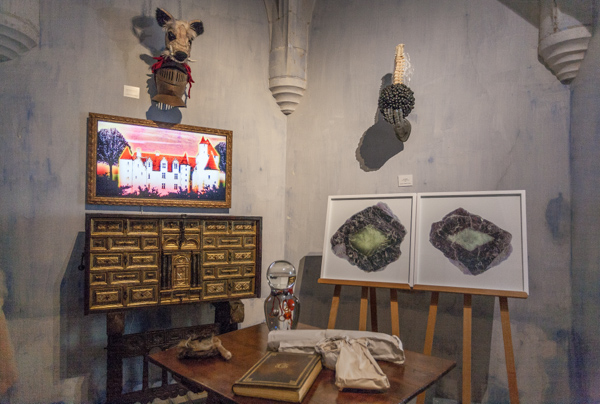 Everything is quiet in the Feast Hall. Blanc Manger by Magali Vaillant takes the viewer on a tour through the different courses of a phantom meal. On the large table covered with a white cloth, the courses are scattered like so many topiary cakes, evocative of spectres of real food, crafted out of white felt, lace, fur and pearls. Curiouser and curiouser, on the chest lies a tea cup covered in fur! Forgotten, but by whom? Polish artist Joanna Malinowska puts a new twist on Meret Oppenheim's Fur Breakfast by suggesting that a ghost left a tea-bag in the cup!
The Ladies' Hall is dedicated to feminine figures. Antoine Roegiers is haunted by historical painting. With the Red Cape, he tells us about the persistance of emotional images transmitted through the ages. Czech Photographer Barbara Bolkova stages her own person amongst forgotten furniture covered in white sheets as a protection against dust. In Wardrobe, she creates her own mirror image, half-woman half-object, giving a feminine aura to ordinary household items.
Katia Bourdarel draws her inspiration from forest legends. The apparition called Little Brother is half-woman, half deer. It throws us outside our rationalist little world and opens up a haunted world of legends, fairy-tales and imagination.
White Ladies are another kind of feminine ghosts. They dwell in the countryside or appear around castles. These translucent silhouettes are usually a sign that something is about to change. Katia Bourdarel's painting entitled La Peau des choses (The Skin of Things) hints at those melancholy apparitions, who act as keepers of a certain order of life and blow the whistle before our society changes completely for the worse.
On the table, you can see a constellation of paper sculptures by Pion and Combey. Their folded figures all have something to do with ghost imagery. Maybe they represent the reapparition of household items owned by characters who are now dead but still alive in our memories?
On the wall, ORLAN's light box seems to be a reincarnation of Boticelli's Venus. The artist humorously substituted his own figure for that of the Greek goddess.
In the Hall dedicated to Joan of Arc: Joan of Arc lived for seven thousand and eighty four days. The drawing Enluminé contains the exact same number of strokes. Artist Julien Serve is also paying a tribute to Carl Theodor Dreyer and the unforgettable actress with a nearly psychic aura who plays Joan of Arc – a famous visitor to Le Rivau!
Next to the door leading to Joan of Arc's bedroom, you can see Anne Brégeaut's work painted on on a wooden panel, in the style of medieval miniature painting. She assumes a seemingly naive style to stimulate the imagination and make us believe in ghosts. As in fairytales, there is no mention of time or space. Only the narrative voice appears out of nowhere to guide us through the secrets of this room, and the depths of our subconscious. Matt Collishaws's lenticular image reminds us of supernatural phenomena that have always fascinated us: his archangel Gabriel appears and dispparears as you change your viewing position.
In Joan's room: »Prière » (Prayer) by Armelle Blary seems to levitate over François Andes' installation that tells us about the famous "voices" heard by Joan of Arc, ordering her to gather an army and fight the English. This sculpture attempts to reconnect us with something sacred, out-of-this-world. In a way it acts as a spectre, an alter ego. According to many 19th Century authors, Joan of Arc possessed an extra quality, allowing her to be a recipient of divine energy.
Using ancient illustrations and documents as base material, Sylvain Ciavaldini tries to challenge the separation between the invisible and the visible world. He uses watercolour to provide old items with a new identity, giving them a new pulse, a new fantastical aura.
Phantoms, ghosts, spectres, apparitions, supernatural vibes: all those phenomenona perplex us as much as they feed our imagination.