2015 EXHIBIT : A DIALOG BETWEEN MEDIEVAL AND CONTEMPORARY ART.
Chimeras and other marvels of art at the Château du Rivau, in the Loire Valley
Our 2015 Contemporary Art Show Chimeras and other Marvels of Art at the Château du Rivau puts an ironic twist on the hybrid, fantastical creatures that haunted the imagination of medieval artists – and are still part and parcel of today's cinematic fantasies and of art production in general.
In 2015, the Chimeras and other Marvels of Art exhibition gives a new lease of life to those hybrid creatures lying so close to the heart of medieval society. Today's artists who present us in their works with strange and fanciful creatures -the heirs to chimeras and marvelous beasts of yesterday- are also influenced by the imagery that has been handed down by popular classics or by heroic fantasy icons such as J.R.R.Tolkien or J.K. Rowling. In the eight halls dedicated to history and castle life in the 15th Century, you will see paintings, drawings, sculptures, collages, works made out of ceramics and glass, bronze sculptures, photographs, video art, taxidermy items and art installations by various contemporary artists. All of these are in a constant dialogue with the castle's permanent collection of beautiful objects, creating new relationships and meanings. .
In the hall dedicated to the various noble lords who built the castle, Nathalie Tallec's woman-hart pays a tribute to medieval knight's favourite pastime: hunting. The joint sculpture by Fabien Mérelle (the man's bust) and Sun Xue brings face to face the man's bust and the artistic "clothing," reminding us of an authentic medieval body armourKeith Haring's Fantastical Animal puts a new twist on the Phoenix bird myth.
Aube Ellouet-Breton's fanciful collages draw the viewer into the experience of a waking dream.Aieuls (Forefathers) by Sandra Lorenzi seem to pour out of a medieval trunk like the legendary salamanders.
In the adjoining studio, the lord of the castle's own cabinet of wonders, you will find Antoine Roegiers video installation La tentation de St Antoine (The Temptation of Saint Anthony), based on Hieronymus Bosch's painting and its fantastical, eerie creatures?
The two Recumbent Gizo (Gizo gisants) by Sandra Lorenzi represent the metamorphosis of a man into a tree. These "savage men" played an important part in Renaissance imagery and you will find them on the family's crest on the coat of arms presented in this room. Hervé le Nost's Billotman also hints at the brute force and strangeness of mythical forest creatures.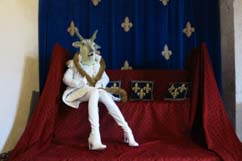 In the Trophies Room, contemporary artists continue to be fascinated by representations of animal figures. They feed on traditional hybrids like the unicorn bringing them one step further, or create completely new "monsters" like this hare with deer antlers.
Marie Cecile Thijs' black creature comes as a counterpart to Sun Xue's white Unicorn. In medieval tradition, unicorns always sport an immaculate white coat, even the aggressive ones.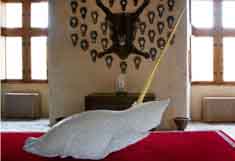 Karine Bonneval's reliquary, entitled Chasse Châsse sucrée (Sweet Hunt) probably has a lot to chat about with Magali Vaillant's hybrid creatures, half animal, half artificial, produced by the artist's supernatural surgery techniques These works are all in dialogue with the castle's permanent collections, like Antelope bust by Marnie Weber, Jeff Koon's paddle ball, the deer-hares inspired by the animal and the strange, or Bruno Pelassy's two-headed Serpent (Snake), representing the mutation from life to death and possibly back to life again.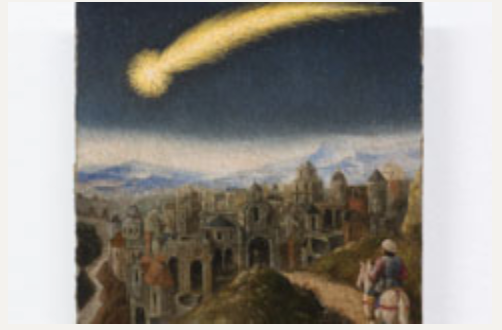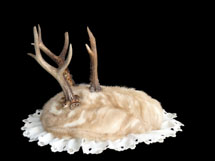 In the Feasting Hall, Fabien Vershaere's Meisentahl glass dinner set follows the tradition of festive tables associated with castle life, but the artist has chosen to decorate the pieces with fantastical images from his own dreams and nightmares. Studies in the Past by Laurent Grasso, with its fairy-tale landscapes, illustrates natural phenomena that have always fascinated mankind.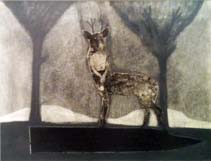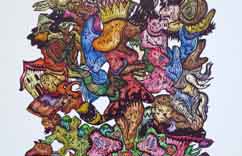 The Ladies's Room is dedicated to legendary feminine figures and to mutants. On the wall, you can see Entre-deux (In-between)by ORLAN in which the artist humorously tackles his own metamorphosis into a famous character: Botticelli's Venus!
By her side, Fabien Verschaere's Onirisme (Oneiric Creature) was specially commissioned for this show. The chimerical horned dog by Basserode plays the part of the Ladies' favourite lap dog!
Chimère (Chimera) by Eva Magyarosi puts a new twist on the fearsome Centaur character and turns it into a harmless hybrid, half-horse and half-cuddly bear. Antonella Bussanich's Femme-Flamme ( Flame-Woman) draws its inspiration from Vitruve but is full of a very contemporary desire to change the world.