UNE COLLECTION DE 500 VARIÉTÉS DE ROSES PARFUMEES
1600 rosiers dans 15 jardins
Les Jardins du Rivau disposent d'une véritable collection de rosiers, labellisée conservatoire de la rose parfumée. Les roses sont choisies non en fonction d'une opposition roses modernes et roses anciennes mais en fonction de leurs fragrances. Vous trouverez ci-dessous la liste de nos rosiers. N'hésitez pas à nous contacter pour plus de détails.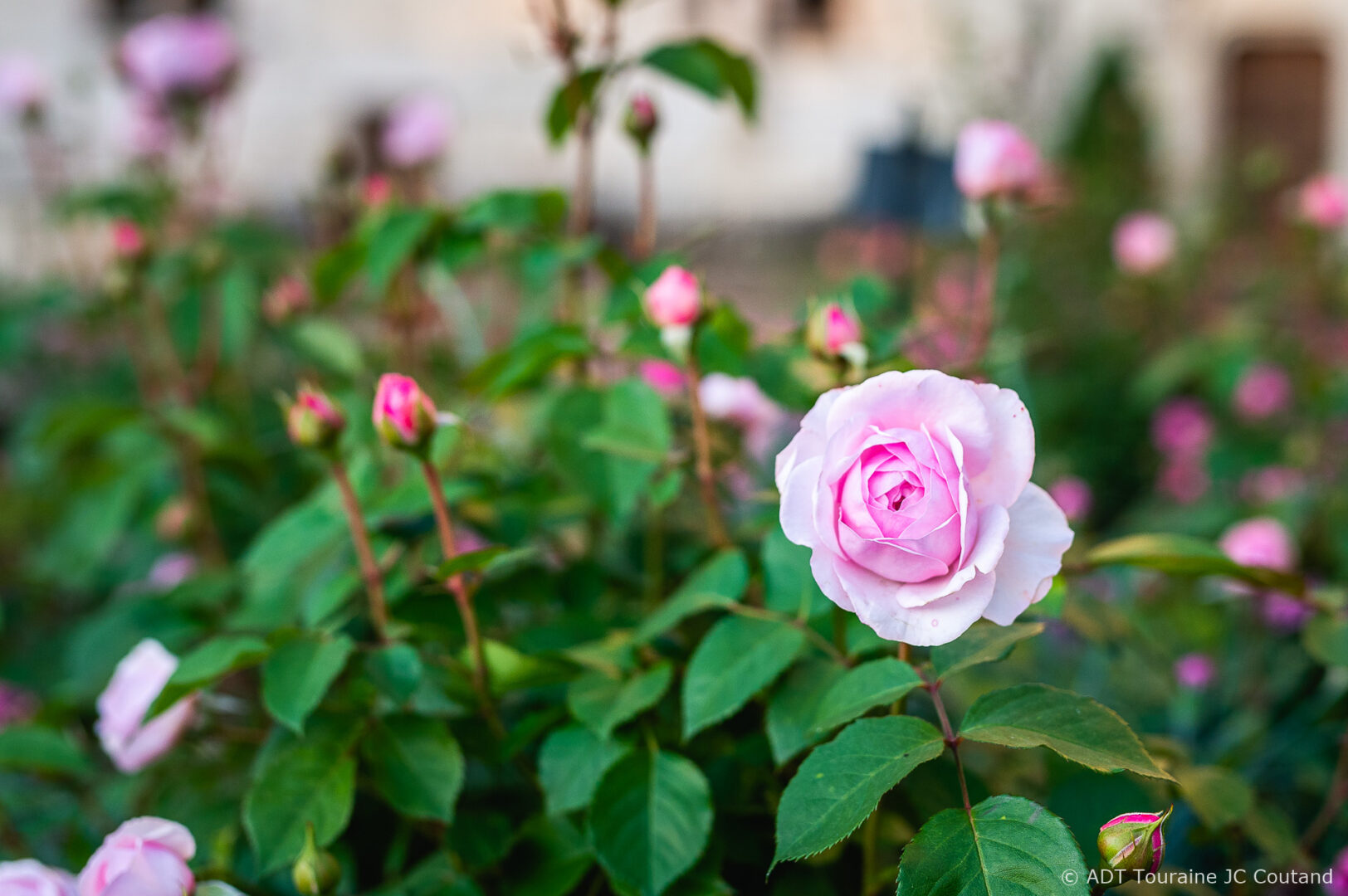 A
Abbaye de Cluny, Académie d'Orléans, Acropolis, Adele Leclerc, Agnes, Aicha hyb de spinossima, Aimable amie, 
Aimée Vibert
 – Bouquet de la mariée, Alain Blanchard, Alan Titchmarsh, 
Alba semi-plena
 (Rose d'York), Albéric Barbier, Albert Poyet, Albertine gpt, Albertine gpt, Alchymist, Allen Chandler, Allister Stella Gray, Altissimo, Amadis syn Crimson Boursault, Amber queen, Ambridge Rose, Ambroise Pare, 
Amethyste
, Anadia, Anda, Annapurna, Anne Boleyn, Astronomia, Autumn sunset,
B
Ballerina, Baron Girod de l'Ain, Baronne de Rothschild, Beara Twilight, Belle Alsacienne, Belle de Crécy, Belle Helene, Belle Isis, Belle sans flatterie, Bizarre triomphant syn Charles de Mills, Black baccarat, blairie 2, Blanc double de Coubert, Blanche Moreau, Meilleure des moussus bl, Blanche fleurs, Bleu Magenta, Bloomfield abundance, Bloomfield Dainty, Blossom time, Blue eyes, Blue River, Bobbie James (semis spontané), Bolchoi, Bonn, Boscobel, Boule de neige syn Snow ball, Broceliande, Brown velvet, Buff Beauty, Bukavu, Burgundy Rambler,
C
Camaieu, Canicule, Capitaine Bas Roger, Capitaine john Ingram, Capitaine Williams, Cardinal de Richelieu, Cardinal Hume, Carla Fineschi, Cécile Brunner climbing, Cerise Bouquet, Charlemagne, Charles de Gaulle, Charles Quint, Charlotte, Château du Rivau, Chevy Chase, Chinatown, Chinensis minima, City of York, Claire Austin, Claire Jacquier, Cocktail disparue, Compassion, Conditorum, Conyston syn Comte de Champagne, Coraline, Cornelia, Cramoisi supérieur clg, Cramoisi supérieur gpt (aggripina), Crimson Glory gpt, Crimson shower 1951, Crocus Rose, Crown Pincess Margareta,
D
Danae, Danse de feu, Danse des Sylphes, Darcey Bussell, De la Maitre Ecole, Déclic, Dentelle de Malines gpt, Dinky, Dom Placide, Domaine de Courson , Dortmund, Dublin Bay , Duchesse de Montebello, Dusky Maiden,
E
Eglantyne, Emeraude d'or, Empreinte, Ena Harkness gpt, Eric Tabarly disparu, Escapade, Ethel, Etoile de Hollande, Europeana, Evelyn, Evêque, Excelsa (Red Dorothy Perkins),
F
Falstaff, Felicia, Félicité et Perpétue, Felicité Parmentier, Ferdinand Pichard, Fighting Temeraire, FJ grootendorst, Florida, Folichonne, Fortsmeister heim, Francesca, Francia, Francine Austin, Francis Lester gpt, Frau Dagmar Hastrup, Fruhlingsanfang Feuillage automne,
G
Gallica Officinalis (Rose de provins), Gallica Splendens, Général Mac-Arthur, Gentle hermione, Geoff Hamilton, Gertrude Jekyll, Ghislaine de Féligonde, Gipsy boy, Glamis castle, Gloire de Dijon, Gloire des Rosomanes, Goldbusch disparue, Golden Celebration, Golden shower, Golden wings, Grace , Graham thomas, Graves de Vayres, Greenseleeves, Gros Provins Panaché, Gruss an Aachen, Gruss an Teplitz, Guinée, Guinée, Guirlande d'amour gpt, Guirlande fleurie, Gallique Impératrice Joséphine,
H
Hansa, Happyness, Harlow carr, Heathcliff, Heike Gianotti, Heritage, Hiawatha , Hyppolite,
I
Iceberg climbing, Illusion, Isabelle de Reimpré, Ispsilanté,
J
Jacqueline Dupré, Jacques Cartier (Marchesa Boccella-USA), James Mason, Jardin de Grandville, Jeanne de Chédigné, Joseph's coat, Jubilee Celebration, Jude the obscur, Just Joey,
K
Karlsruhe, Katlleen, Kew Gardens,
L
La belle Alsacienne, La Belle Sultane syn Violacea, La France gpt, La ville de Bruxelles, Lady EmmaHamilton, Lady of Mengish, Lady of Shallot, Lady penzance, Laetitia casta, Lavender dream, Leander, Leonard de Vinci, Les saisons d'Italie , Leverkusen, Lily Marlene , Line Renaud, Looping, Lord penzance, Louis van Tyll, Louis XIV , Louise Odier, Lovely the fairy, Lucia,
M
Magic carpet, Mannington mauve rambler , Maria-lisa gpt, Marie Pavie, Martin des senteurs, Mary rose, Meg, Meg Merillies, Méli-mélo, Merle Blanc, Mermaid bracteata, Michelangelo, Minehaha, Minerva, Mme Alfred Carrière, Mme Hardy, Mme Issac Perereire, Mme Legras de Saint Germain, Molineux, Mon jardin ma maison, Monsieur désir, Monté Cristo, Moonlight, Morletti, Mousseline, Munstead Wood, Musqué sans souci, Mutabilis,
N
Narrow water gpt, Neige d'avril, Nevada, New Dawn, Nuits de young old black Nyswellt White,
O
Old Blush , Old port, Ornement de la nature, Orpheline de Juillet,
P
Palais des papes, Panoramic stars, Papa Emile, Papa Meilland, Parfum de l'Hay, Parkdirektor Rigger's, Paros, Peace and Love, Peach Drift, Pénelope, Perle d'or, Peter Beales, Petit bonheur, petite lisette, Phillis Bide, Pierre Arditi, Pierre de Ronsard ou Eden rose, Plaisanterie, Pleine de Grâce, Ports Sunlight , Pourpre charmant, Président Paulmier, Président de Séze, Princess Alexandra of Kent, Princess Ann, princesse de Nassau syn Automnalis, Probuzeni (syn awakening), prosperity, Psyché, Purple Skyliner,
Q
Quatre saisons Damas syn x damascena var semperflorens, Queen Elizabeth , Queen of Sweden, Queen of the musk,
R
R Damascena Tringipetala « Kazanlik », R X centifolia, R. chinensis sanguinea, R. Hemsleyana R. Hugonis ou Springtime , R. laevigata, R. Pimpinellifolia , R.Banksiae alba, R.Banksiae Lutea , R.Luciae glandulifera, R.x Kamchatika, Rabelais, Rambling Rector, Raymond Chenault, Red Eden rose, Red Parfum, Redoute, Reine des Violettes, Rhapsody in blue, Rigo Toscano, Robin Hood, Robusta, Roi de Siam, Roi des Aulnes, Rosa Borboniana, Rosa Canina, Rosa filipes Kifsgate , Rosa Foetida Persiana, rosa glauca , Rosa helenae, Rosa higdownensis, Rosa Macrantha Waitziana, Rosa Moschata « umbrella », Rosa Moyesii « Eddie Jewel » , Rosa Moyesii « Géranium », Rosa Moyesii , Rosa Mulligani, Rosa pimpinellifolia Fruhlingsgold, Rosa pimpinellifolia golden wings, Rosa pimpinellifolia maigold, Rosa rubiginosa « Gold Bush », Rosa rubrifolia mechliniae, Rosa rugosa rubra, Rosa sempervirens prostata, Rosa sericea Pteracantha, Rosa versicolor (rosa mundi en UK), Rosa Viridiflora, Rosa xanthina  » Canary bird » , Rosalita, Rose à parfum de l'hay, Rose de Rescht, Rose des Maures, Rose des sisterciens, Rose du roi , Rose marie Viaud, Roseraie de l'Hay, Rouge Meilland decor, Rush,
S
Sadler's well, Sally Holmes, Sander's white, Scarborough fair, Scepter Isle, Scharlachglut , Schneezwerg syn Snowdwarf, Schwarter samt, Senegal, Sibelius, Silver Pink, Sir Cedric Morris, Sir John Betjeman, Smarty, Sombreuil (Syn. Colonial's white), Sophy's rose, Souppert et notting, Sourire d'Orchidée, Souvenir de Brod, Souvenir de Claudius Desnoyel, Souvenir de la bataille de Marengo, Souvenir de la Malmaison, Souvenir de mme de Corval disparue, Souvenir du Dr Jamain, Springtime, Stanwell perpetual, Star Profusion, Strawberry Hill, Summer song, Super Efin, Super excelsa, Surpasse tout, Susan William- Ellis, Sutter's gold, Suzette, Sylvie Vartan , Sympathie,
T
Tam 0′ Shanter, Tapis rouge syn eye, Tapis volant, Tenuifolia , Tess of the d'Urbervilles, That's jazz, The Alnwick rose, The dark lady, The Garland, The Generous Gardener gpt, The ingenious Mr Faichild, The Lark Ascending , The Mc Cartney Rose , The Pilgrim, Thermidor, Thisbe, Toby Tristam, Tocade, Tom Wood Tranquility, Treasure Trove, Trier, Tuscany superb , Tutti frutti,
U
Ulrich Brunner, Una,
V
Valenciennes, Veilchenblau, Vierge de Clery seule centifolia blanche, Violet Hood , Violette, Violette Pafumée, Violette Parfumée gpt,
W
Waterloo, Weeding day, Westerland, White Grootendorst, White Magic, White new dawn, Wildeve,, Wilhem William III, William lobb ou Duchesse d'Istrie, William Morris disparue, William Shakespear William Shakespear 00, Wisley 08,
Y-Z
Yellow fleurette, Young Lycidas, Zephirine Drouhin gpt disparue, Zoé.